The Hotel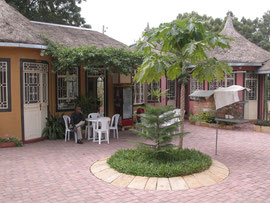 Opened in 2011 our hotel quickly became known for it's neat architecture, the plantation and greens on the compound, the excellent service and outstanding room-service. The latest addition is free wifi for guest and a breakfast that's included in the room-price which will make your stay even more comfortable!
We strive to uphold the highest standards at the "African Village Hotel" in Dire Dawa.
In order to achieve this objective and to be sensitive to our surrounding and the culture we live in, we have set the following guidelines, additional to national laws, for our guests:
We do not allow unmarried couples to share a room.
We do not allow possession or consumption of alcohol and other drugs, including khat, anywhere on the premises.
Guests may only smoke outdoors & not where it disturbs other guests.
We also ask that people please be considerate and keep noise levels low.
Our goal is to humbly serve you in any way possible while maintaining our values and standards. We realize that flexibility is essential to meet your needs, and we will make every effort to provide you with a comfortable and enjoyable stay.